The BID 3 Proposal
BID 3  Willow Lane Trading Estate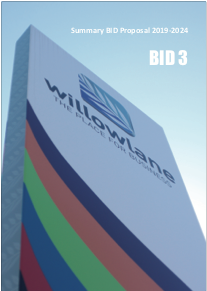 Our new BID Proposal for 2019-2024 is out now. This contains details of all our achievements over the past 5 years and our commitments to local businesses along with details of projects and services for the next 5 years.
Vote yes in March 2019 to ensure you do not lose:
• Extensive CCTV cameras and monitoring
• ANPR (automatic number plate recognition) cameras
• Police liaison
• Faster broadband
• Business website
• Lobbying and networking
• Parking improvements
• Estate signage
• Air quality monitoring
• Environmental audits and reporting of fly tipping
• A dedicated BID Coordinator (2 days/week) and business board
To Download the Full Proposal <Click Here>
Vote yes for all of this and to gain even more
Ballot timetable – Make your vote count!
13 February 2019 – you will receive a Notice of Ballot
27 February 2019 – you will be sent a postal Ballot Paper
28 March 2019 at 5.00pm – you need to have cast your vote
29 March 2019 – the ballot result will be announced
To Download the Full Proposal <Click Here>
Get in touch
Please do not hesitate to contact the Willow BID if you would like any further information or would like to arrange a meeting to discuss our proposal in more detail:
Graham Willins
Tel: 020 8640 2507